®
Dive Tulsa Staff
The quality and fun of your experience depends heavily on the people who teach you.
Dive Tulsa is made up of very experienced, senior-level PADI instructors.
From our instruction staff, we insist on significant amounts of diving experience, not just training. We also possess extremely high levels of patience. We love to help students overcome their fears and any other challenges. This is our real reward.
Our staff is made up of adventurers - who share our passion with other divers.
We teach because we love it. Although we charge for our classes, money is not why we teach.
We have unusually high instructor to student ratios, often one instructor for every two students.
We pace our classes to fit the needs of the students, even though it may take longer, it is the right way to teach. We work to help each and every student be comfortable with diving. This comfort is what will help you dive and enjoy it, and dive some more.

A third of our instructors are women, which many female students find comfortable.
We're often told that our ways can't be profitable, measured only in money,
they probably aren't.
Our classes are a wonderful combination of professionalism, patience and warmth,
building our family of divers.


Steve Pittman
PADI Course Director
Certified in 1987, 1,500 logged dives in 9 countries
Certified 1,000 divers, 0' visibility to infintite, 36 to 86 degrees temperature
(More Info)


Chad Engler
PADI Instructor Development Course Staff Instructor
At-a-Glance
Certified in 1986, 1,000 logged dives in 14 countries
0 to 222 feet depth, 0 to 250 feet visibility, 42 to 99 degrees, certified 220 divers
(More Info)



Loretta Engler
Instructor Development Course Staff Instructor
At-a-Glance
Certified in 1995, 500 logged dives, in 6 countries and 10 US states
Environment ranges: 0 to 130 ft depth, 42 to 99 degree temperatures, 0 to 250 ft. visibility
Completed certifications for 120 divers
(More Info)

Beverly Saffell
PADI Master Instructor
At-a-Glance
Certified in 1997, 515 logged dives, in 2 countries
0 to 172 feet, 0' to 300' visibility, have certified 185 divers
(More Info)


Randy Saffell
PADI Instructor Development Course Staff Instructor
At-A-Glance
Certified In 1997, 500 Logged Dives
0 to 171 Feet depth, 0' to 300' Visibility
Certified 80+ Divers
(More Info)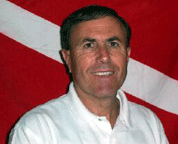 Bill Dausses
PADI Master Scuba Diver Trainer
At-a-Glance
Certified in 1998, 452 logged dives, experience throughout the Southwest,
Gulf of Mexico, and Belize, and have certified 50 divers
(More Info)



Tim Culp
PADI Assistant Instructor
At-a-Glance
Tim became Certified in 2000, 100 logged dives in the US & Belize
0 to 97 feet, 0' to 150'+ visibility
Assisted in 25+ certifications
(More Info)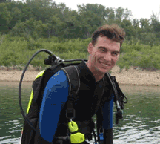 Matt Gage
PADI Dive Master
At-a-Glance
Certified in 1998, 100 logged dives
0' - 121' depth
(More Info)