Dive Trip: Blue Hole, New Mexico
Please join DiveTulsa on the weekend of March 27th & 28th.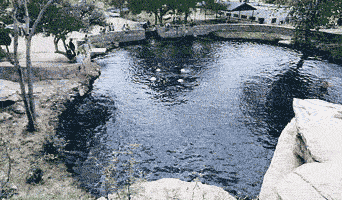 Fun weekend of Diving:
Join DiveTulsa staff & friends on a new adventure. We are going to New Mexico for the weekend. A former fish hatchery, the Blue Hole is now the Southwest's most popular dive training site according to scubadiving.com. Check out this site for more info: http://www.santarosanm.org

Diving Specifics: BLUE HOLE FAST FACTS
• Diameter-80' at surface, 130' at bottom
• Depth-over 80'
• Temperature-constant 64° ALL YEAR ROUND
• Visibility-80' when undisturbed
• Flow-3,000 gallons per minute; water recycles every six hours
• Altitude-4,600' above sea level making the bottom equivalent of over 100' of depth in the ocean

Costs:
$8 permit fee per person for the weekend. Travel & hotel accommodations will be your responsibility

Equipment:
• Divers need to bring all gear including (but not limited to) thick wetsuit (suggested 7ml), hood, gloves. You are welcome to bring your own tanks, rent them in Tulsa and bring them, or rent them at the dive location. Please note that tanks must be reserved in advance if you want to rent them at the location. Reserve tanks through trip leader - info at bottom.

Logistics:
It is approximately an 8 hour drive. We plan to leave at mid-day on Friday and leave the site mid-day on Sunday. Details and maps will be provided when you reserve your spot.
Hotel (each makes their own hotel reservations):
SUPER 8 MOTEL - SANTA ROSA
(right off I-40 & @ the exit to the blue hole)
$40 a night
1201 Will Rogers Drive
Santa Rosa , New Mexico 88435
505-472-5388
1-800-800-8000 Reservations line

Questions and Signing Up
Contact the trip leader, Tim Culp:
Call 405-919-8521 after 7:00pm or weekends for reservations or questions
or e-mail – Tim@DiveTulsa.com